Why choose Chunky Chenille Blanket?
Chenille fabric is one of the most unique textile designs in the industry. Designed to be lightweight, durable, and optimally warm, a chenille blanket can be a suitable solution for almost every month of the year. And even though it is lightweight, it can be surprisingly snuggly, cozy, and fluffy – ideal for those late evenings with a good book, cuddling, or watching a movie.

Needless to say, chenille blankets make great throw blankets, both in terms of their convenience and their appearance. They are efficient, stylish, and make an irreplaceable decoration piece in every home: a chenille blanket will add texture and a pop of color to the living room and keep you toasty and perfectly cozy when you're winding down after a long day at work.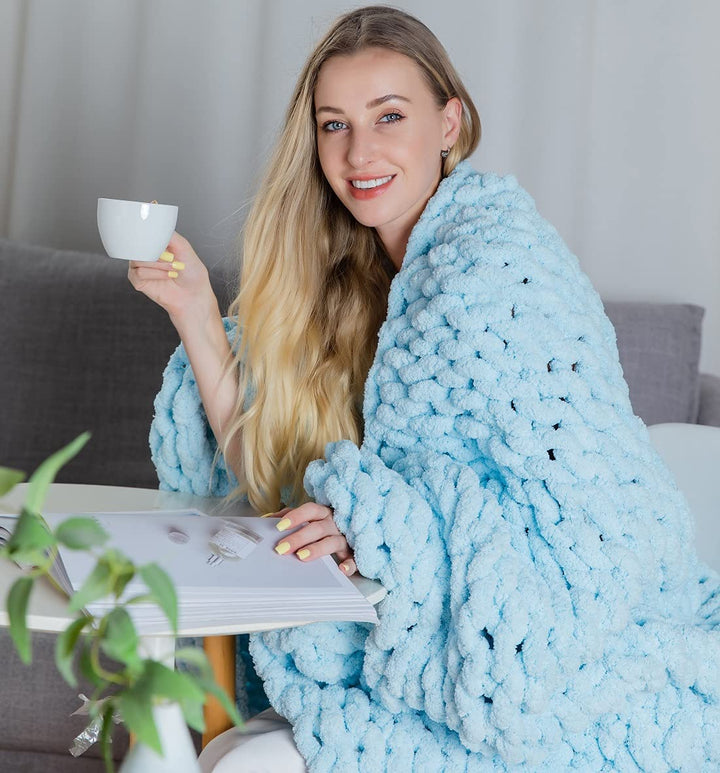 What is Chenille?
One common misconception about chenille is that it is a type of fabric. The truth, however, is not so simple. In layman's terms, it is enough to say that chenille is a special type of fluffy yarn that can be made from any commonly used textile. Its history also goes back in time quite a while: it is believed that chenille originated in France in the 18th century. The word "chenille" itself is of French origin and means "caterpillar", which is another important thing to know, as the name is meant to denote the special fuzzy and soft texture of chenille yarn that resembles a caterpillar's back.


SHOP NOW (Chunky Knit Blanket - Chenille)

Thanks to the advantages of modern textile industries, chenille yarn can be made with a variety of common fabrics. Today it is often made with rayon, acrylic, polyester, and natural cotton as well. This gives chenille unparalleled versatility in addition to durability, breathability, warmth, and ease of maintenance. As a result, chenille blankets one of the favorite choices for many. They are soft and warm and look stylish and modern as well. Thanks to the unique weaving method of chenille yarn, these blankets always have a wonderful raised texture and a heavenly plush feel. And who wouldn't love that?



What is more, chenille material makes for ideal throw blankets. This solution is so versatile and efficient that it fits easily into any home. Use it in any room as a fashionable and efficient decoration solution, adding a cozy personal touch and showing off your sense of style. Of course, as a throw blanket, it will always be close to hand to make sure you can get snuggly and warm when needed- especially when you're binging a TV show or enjoying a good book on the living room sofa.

What are the Pros and Cons of Chenille Blankets?
Like any other type of material on the market, chenille also has a wide range of advantages but also its weak points. However, the latter is a truly minor disadvantage and will not hamper the overall positive aspects that a chenille blanket brings to the table.

The first feature we can notice is of course the warmth of the fabric. Chenille blankets might seem thin at a first glance, but their fuzzy and soft texture makes them great for keeping you toasty and comfortable while lounging. Of course, they might not be ideal for the coldest days in the year but are great at any other time.


They are also quite durable. One of the chief aspects of chenille yarn is its durability. Tightly knit and interwoven, this yarn is exceptionally tough and reacts great to wear and tear and repeated washings. What is more, chenille blankets don't wrinkle, fade, or shed? This makes them quite a welcome change from common cheaper fabrics that can shed within the first month of use.

However, there are always a few cons hiding in the midst. Chenille blankets can sometimes be tough to maintain. Some of the finer ones don't react well to machine washing and can be only hand washed in cold water or handed over to the dry cleaners. Nevertheless, it ensures that your chenille blanket will be treated well and last much longer than some cheap synthetic blankets.


Editor's choice

Having a plush blanket that can be used all year round is great but better still is a cozy throw blanket is an ideal design for every occasion. How can you make this mix even better? Chenille. This super soft and snuggly chenille throw blanket will be the ideal accessory in your house – no matter the room. Its silky and velvet plush texture ensures that cozy feeling, all thanks to high-quality 100% chenille polyester material. Great for when you need just a little bit of extra warmth, it can be used in every season.